I`m Jovana, the founder of ÉTAT DE HYGGE.  I am a decluttering expert and a Certified Konmari Consultant based in Oslo, Norway. I have an educational and professional background from Social work, Criminology, and Human Resources. My Konmari journey started back in 2018 when my partner and I were building a fully equipped tiny house on wheels. We were about to move a 75 sqm apartment belongings into a 17sqm tiny house for about 6 months. We were so up for the challenge of reevaluation of what truly matters to us.
Although I always considered myself to be a tidy and well-organized person (based on the fact I back then used to tidy all the time) it has quickly become obvious that the number of my possessions was way beyond what I knew about and that therefore it simply won`t fit into the pretty little tiny house. I admit I was terrified to even think about having to let go of any of my stuff. Or I simply just never knew how to do it, so it was easier to just think of keeping everything.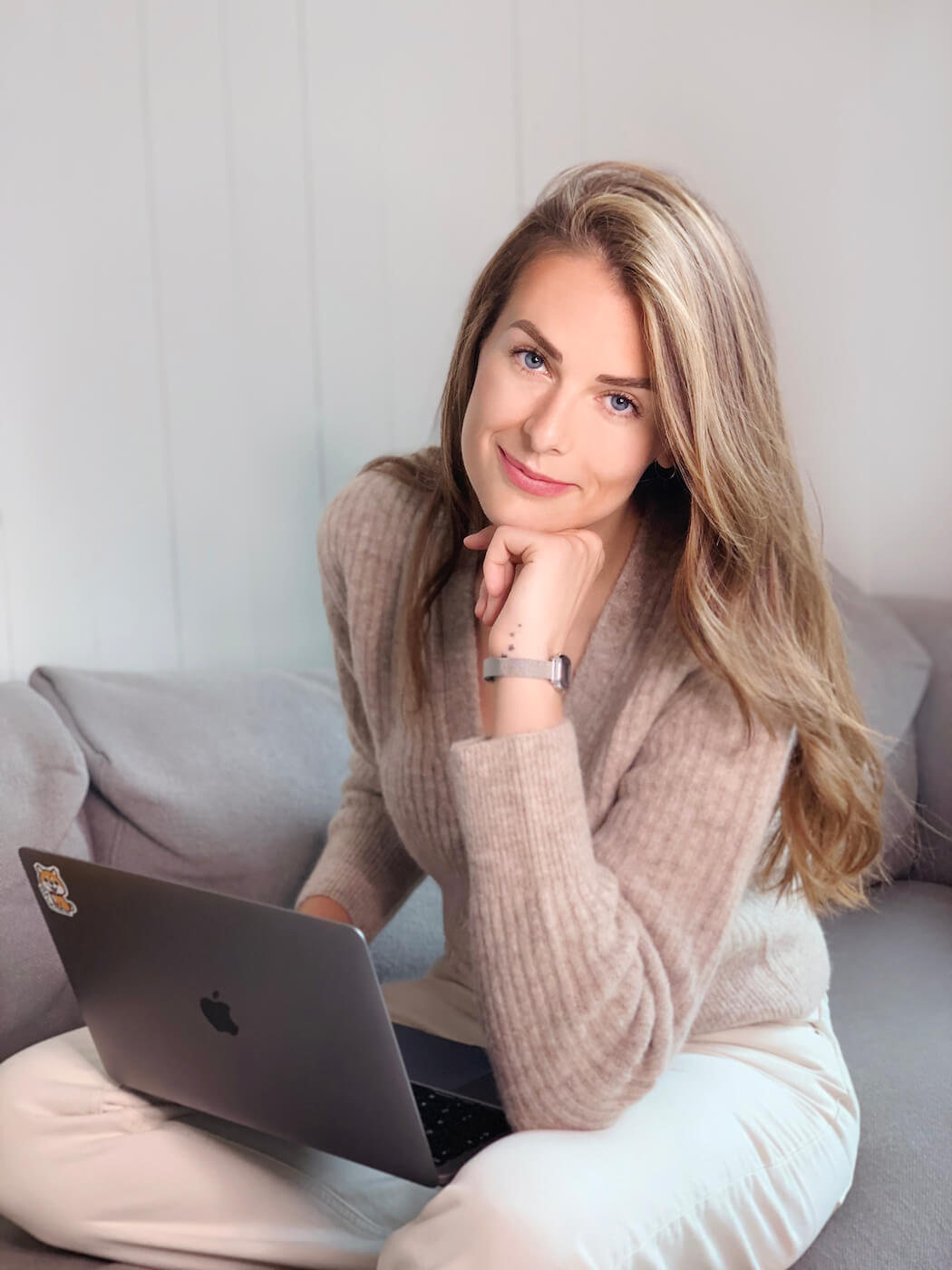 As I started tidying and packing down room by room in our old apartment, I was so overwhelmed by the constant discovery of the very same type of items I already have packed, just that these were popping up in another room or a different cupboard. Quickly I found myself unpacking boxes again to see if the items were really alike and then again deciding on whether I should just bring twenty glass jars with me or if I`m good with maybe five. The next day I would find six more jars in the basement…you get the point. 
Frustrated over my belongings and anxious that I will never manage to downsize for a tiny house, I started googling something like «how to declutter in one go…» and «the best decluttering method there is…» and my google results were all about The KonMari Method™ and Marie Kondos bestselling book «The Life-Changing Magic of Tidying Up: The Japanese art of decluttering and organizing». I will be honest and admit that what really got me to buy the book the very next day was all the reviews claiming the method will transform your home into a PERMANENTLY clear and clutter-free space.
I read the book in 2 days and literally, everything I ever knew or been taught about tidying was about to get questioned and severely changed for the better. I applied the method while moving and also later while putting together my life in a tiny house. The result was me being surrounded by just as many things as I actually needed, making sure that every single item I kept was sparking joy.
Now that I finally knew how much I have, storage was simply a fun thing to do. After 6 months our tiny house adventure has come to an end and we ended up moving to a downtown apartment. With us, we only had things that were sparking joy. The moving process was quick and easy as I knew exactly what we own and how I want to keep it. The storage solutions I created in the tiny house turned out to be quite universal and I quickly installed it in my new home as well. 
However, little did I know back then that transforming my home using The KonMari Method™ was about to transform my whole life. In the months to come, I was happy to help transform homes of my friends and family members and received so much love and gratitude in return. I could confirm that tidying was not only life-changing for myself, but also others once they do it the proper way. You might wonder if I am a minimalist or maybe someone who deprives herself of buying or owning anything after I have "Konmaried" my home. Oh, so not! Neither I advocate for such an approach. It's not about the number of things you own, but how much they make you happy!
Fast forward one year I have completed the Konmari Certification Course and can today call myself one of Norway's very few Officially Certified Konmari Consultants and a Decluttering Expert.
"État de Hygge`s mission is to guide you through transforming your environment into a clutter-free and completely organized space, filled only with items that you absolutely love." – Jovana
Whether you're looking to start your decluttering journey or you are just «stuck » along the way, you don't have to go at it alone. I've got you! 
It's my goal to combine my passion, education, and experience in a way that will help you transform your home into one that inspires; into one that you love and that loves you back.
Love,
Jovana ♡